Welcome To The Wayuu Market
Wayuu Market is a window for Wayuu people to the world. We benefit the rural artisan communities through this online, small-producers market. Thousands of women from the deserts of La Guajira, weaving the patterns they dream, crafting the finest Colombian-woven bags. Each piece has a story to tell, and now, you can be a part of it!
Every Wayuu artisan family owns their shop, and you can search through all of the items or browse by each store. The platform works best for wholesale transactions, as it allows buyers to get the products at local prices while enjoying bulk shipping discounts.
Visit each artisan shop and learn about the different artisan groups. Each autonomous shop belongs to the artisan communities where they manage the inventory and consciously dictate the price they want to charge. Visit the Wayuu shops!
Even though Wayuu artisans do not work in factories or consolidate at one place, they share a commonality in their productions. You can see all the different types of Wayuu bags, Wayuu hats, and Wayuu apparel in the shop. Pick your collection from different stores and pay all in one bill. Enjoy super fast shipping!
A Window Connecting Wayuu People to the World
Welcome to Wayuu Market, the only platform that hosts independent Wayuu artisan shops directly from La Guajira, Colombia.
We work as a commercial bridge for rural indigenous communities to access the digital world market. All of our stores belong to Wayuu people: artisans, local producers, and artisan union representatives. We all work together to supply everyone from retail customers to wholesale merchants. Meet the artisans of the Wayuu Market.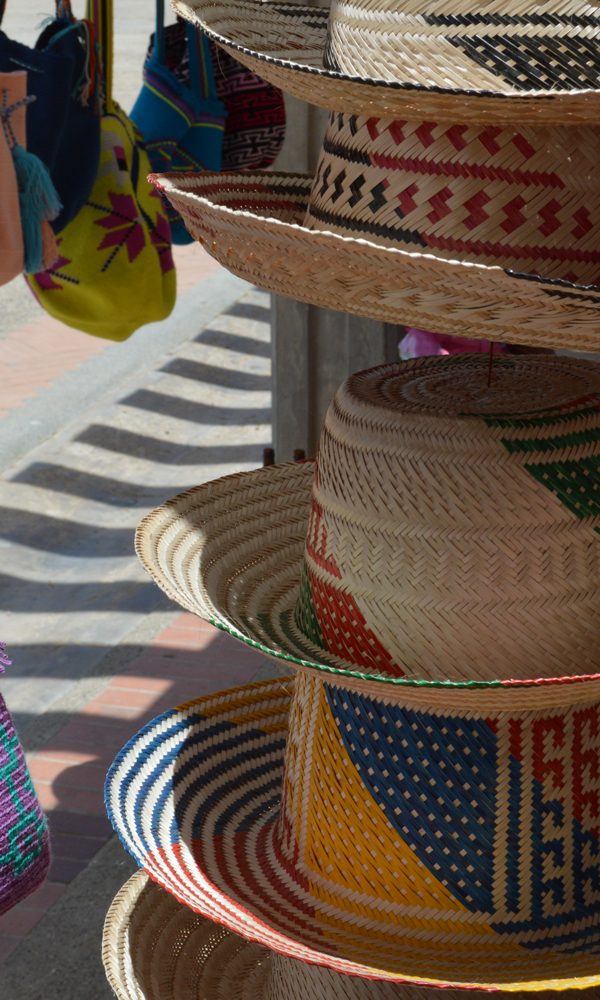 The Advantages of Buying at Wayuu Market
You get local pricing from the artisans no matter what and fast and inexpensive shipping, retail buyers can acquire Wayuu items at a discount. However, the trick for wholesale buyers to get lower shipping costs per item is to buy more products. We have worked hard to get the lowest processing prices and shipping discounts to get you the best price possible while still respecting the artisan's fees. Read more about how it works.
The artisans of the Wayuu Market are producers, and they are certainly giving you the best, most competitive prices nationally and internationally. Now, anybody anywhere can enjoy having a piece of Wayuu art and ancestry!
Particularly, The Wayuu Market prices are already the lowest online; you are getting a great deal considering the time and craft alone. The Wayuu artisans put a small part of themselves on making every one of these pieces special. Learn more about The Wayuu Artisan Industry.
Why are Wayuu People Special?
For one thing, the Wayuu are the largest indigenous artisan community in Colombia and Venezuela. They produce millions of pieces ranging from woven bracelets, wallets, coin purses, a wide variety of shoulder and cross-body bags, hats, shoes, large hammocks called "chinchorros," apparel, you name it! They are so creative and colorful!
Undoubtedly what has been most impressive is their ability to connect to us through fashion, helping us understand who they are and where they come from. Wayuu bags and Wayuu products have gone to all the corners of the world. Find your piece of Wayuu Art.
Discover the Beauty of Wayuu Culture and Help Us Preserve It
Making a donation is simple and meaningful. Your contribution will empower the Wayuu and preserve their culture.