How To Clean A Wayuu Bag?
Everything we buy is bound to get dirty at some point. Wayuu Bags are not the exception, thus is important to know how to care properly for whatever you buy. Wayuu bags are very easy to keep up with. You'll be able to show off your bright and brilliant bag for many years to come. Follow these few simple steps for keeping up with your Wayuu bag.
First, we must know more about the making of these unique bags. The creation of Wayuu Bags does NOT involve cotton or natural fibers. They are composed of a mixture of synthetic fibers containing mostly acrylic material. The Wayuu acquire these synthetic fibers from one large manufacturer in the capital city of Colombia, Bogota.
Synthetic fibers give that eye-popping color, unlike natural fibers. Natural fibers would not be able to hold their color for such a long time like that of synthetic fibers. Also, Synthetic fibers are more repellent to water keeping your things dry or delaying weather damage with much more efficiency.
Durability is another key feature of our bags from the use of synthetic fibers. You will be able to keep and use your Wayuu Mochila bag for years to come.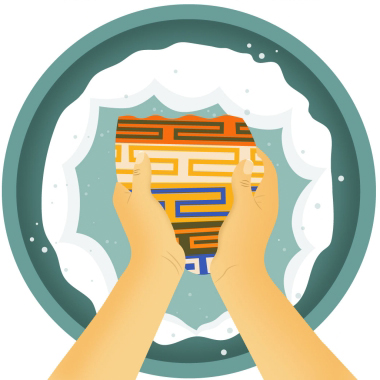 Cleaning a Wayuu Bag the simple way
While you may be able to spot clean your bag with success at times, using a gentle detergent,  you can just put your bag into the washing machine with the rest of your clothes following these simple steps.
Now, you have a bright and shiny, almost like new Wayuu Mochila bag. Just remember to let it air dry to avoid any shrinking or damage that may occur from high temperatures of dryers. We all know that a dryer that gets too hot and likes to shrink or tear our clothes. As long as you turn your bag inside out and wash with cold water, you will have a clean Wayuu Mochila bag anywhere you go. You can't just clean any bag or purse like that of our bags which just adds to the list of how unique and amazing our Wayuu Mochila bags are! Cleaning has never been any easier than throwing something in the wash.